Given this recent trip (featured in the Opinion section) was a family affair, I knew I'd be spending less time trawling fashion stores than I usually do when travelling child-free. But in Vegas, Ronnie and I racked up a few kilometers in the heat – which wasn't so hard given that most of Vegas' prime shopping is set up indoors in uber-glamorous shopping centres.
In this modern era of globalization and chain stores, most of the fashion is the same in every major city in the world. Except that the high-end stores will be a season ahead of their counterparts in Australia.
One chain store I was delighted to come across was the English label All Saints. It's a favorite if we're in the UK and one chain store that has yet to reach Aussie shores.
All Saints is part of the Cosmopolitan Shopping Centre (attached to the hotel of the same name) along the main strip of Vegas. It's more famous for it's glitzy Chandelier Bar than the shopping, but it's still got a decent enough selection of stores to make it worth a visit.
Being in Vegas, I was naturally drawn to the 'bling' factor – and All Saints had plenty of it.
From this'Embellished Pipail Dress for $495 (US) ….
…to several other sequined numbers – selling for slightly less.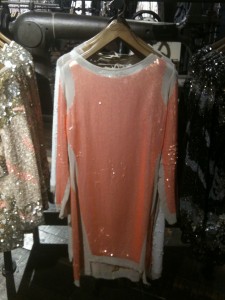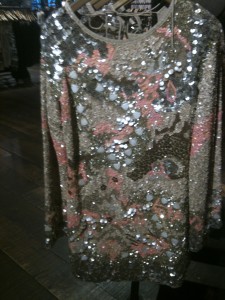 I tried a couple on, but was having a 'fat day' so put them back on the racks.
Beckley at the Cosmopolitan was another find – although they wouldn't permit photos inside. Their fashion range is fab – featuring designs from Zac Posen, Herve Leger, Opening Ceremony, Cut 25 and Vivienne Westwood.
Moving on to Caesar's Shopping Centre, there were more of the high-end chain stores – such as Jimmy Choo and Burberry.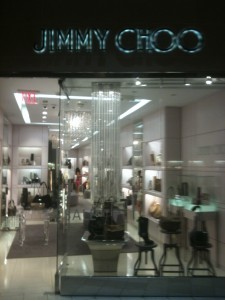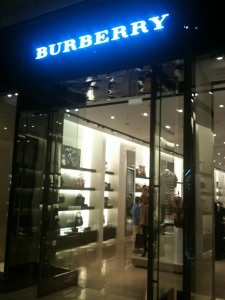 After being saturated in sequins, I was instantly drawn to something rarely spied in Vegas – PLAIN BLACK FASHION – a feature of Burberry's new winter range. A true Melburnian, I was naturally drawn to the dark side….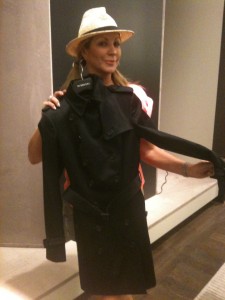 But I couldn't afford the four-figure price tags. We'd just taken a chopper ride over the Grand Canyon after all. I could but yearn…
So then Ronnie and I ducked over to The Boulevard Mall – an outlet shopping centre at 3528 S. Maryland Pkwy for something more in our price range. The Boulevard has a great range of discount stores as well as sporting goods shops – excellent for buying nephews caps featuring logos from their favorite US baseball team.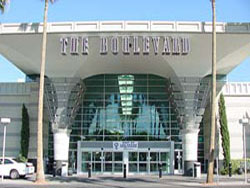 Ronnie scored some cute denim shorts and a couple of t-shirts, while I picked out a couple of fluro striped singlets for a mere $4.50 each. Now that's what I call a bargain.